Solar Chronograph
Solar Watch Reinvented
Our Best-Selling Watch Just Got Better
Solar Chronograph
The Solar Chronograph is a feature-rich and sustainable watch. It features a cast recycled stainless steel case that is assembled and tested for water resistance of up to 100 meters. The solar-powered chronograph movement sits below the perforated dial and can last up to 6 months on a full charge. The feature highlight of this movement is the alarm function. Positioned at the 6:00, an additional set of hour and minutes hands allow you to set a reminder that has an audible beeping noise. The internal rotating compass bezel is controlled by the additional crown located at the 10:00 position. The 20mm strap is made from recycled ocean plastic. 10% of profits will be donated to the Jan & Oscar Foundation to help the continued efforts in cleaning up our oceans.
View Solar Chronograph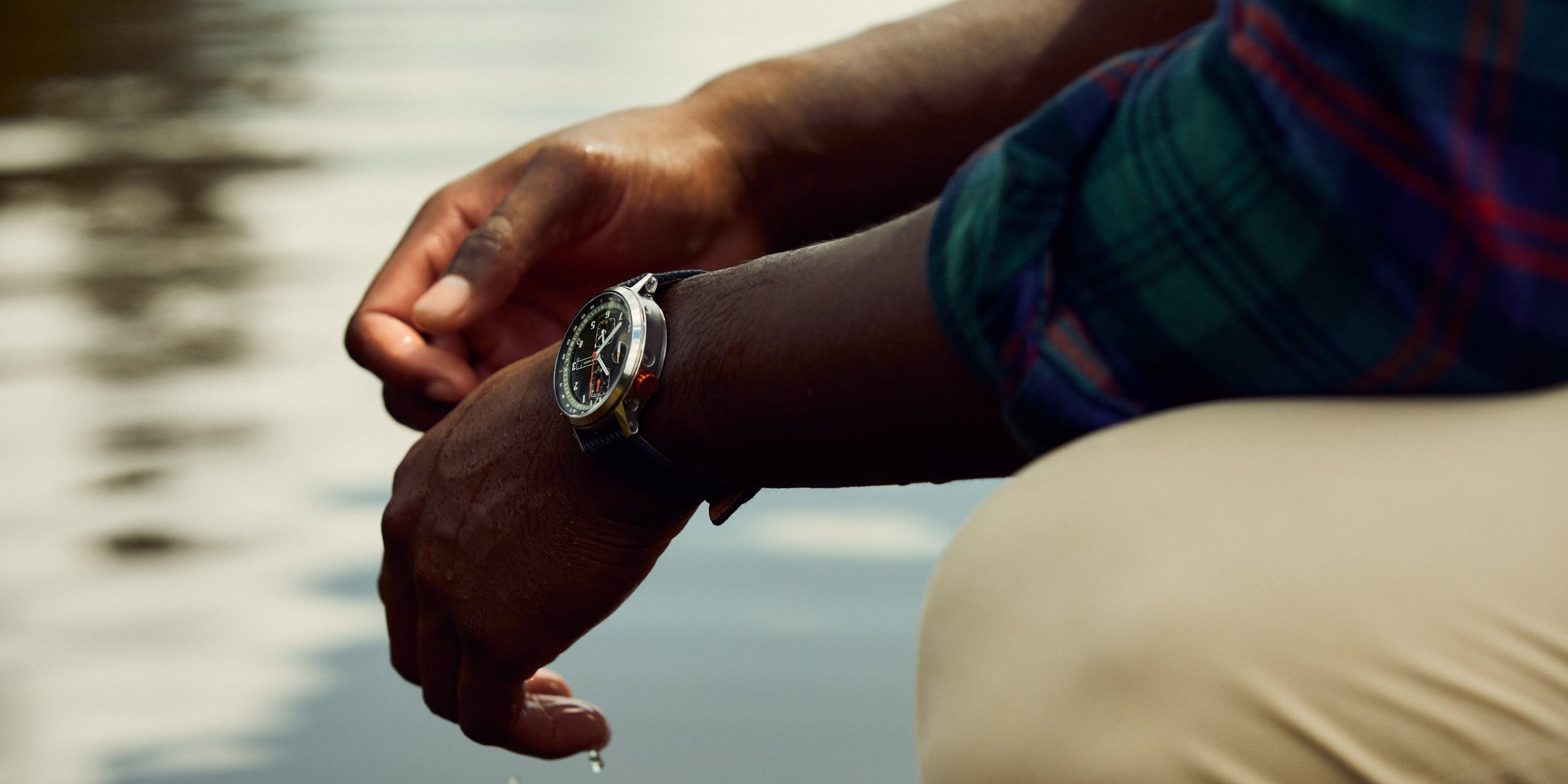 Runs On Sun
Sun rays penetrate the dial through the patterned cutouts and continuously charge the battery. Just 5 hours of sunlight provides enough charge for up to 6 months of use.
Environmentally Conscious
The batteries in our solar watches can last up to 10 years (or longer) which means less waste in our landfills and reduced impact on the Earth.
Made with Sustainable Materials
Made from Plastic Bottles
Not only is the strap visually stunning, it's also made from recycled PET plastic! Plus, the cork backing makes it extremely comfortable on your wrist.
Recycled Stainless Steel Case
We are reducing waste by repurposing the scrap metal that remains from mass production of watch cases. The scraps get melted down and cast into molds to create brand new cases.
Packed with Great Features
Electronic Alarm Function
Need a reminder? The bottom sub-dial allows for setting an alarm up to 12 hours in advance and will let out a series of beeps once the designated time arrives.
Manual Inner-Bezel Compass
The inner-bezel offers orienteering functionality with a manual compass controlled by the secondary crown. It's also marked with a 60 minute count-up scale for tracking elapsed time.
Split-Second Chronograph
Like a chronograph, but better! This allows for pausing the chronograph function to record split times while still tracking total elapsed time. We're giving 10% of the profits made from all solar powered watch purchases to the Jan & Oscar Foundation to help keep our oceans and planet clean.