We make watches for enthusiasts of all levels
Whether you are just starting your collection or an avid collector, we keep the wearer in mind to offer a product that fits your needs. We believe that with confidence in quality comes confidence in character, and your stories inspire us everyday to deliver on providing premium watches that you can always depend on. Our watches are designed to elevate the moment and form a unique story of their own.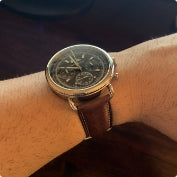 "Beautiful watch, perfectly crafted. It has been attracting a lot of attentions and compliments. You will absolutely love it!"
"After wearing it a few days, it checks all the boxes for design, style, function and quality. It feels good and looks good on my wrist."
Join our community for
exclusive offers and JM news!
We respect your attention and won't overwhelm your inbox.